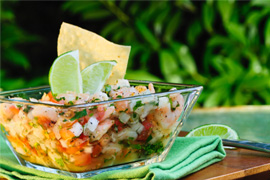 CEVICHE
The following recipe is a modern adaptation of Ceviche. It is a delicious low calorie main dish entree or appetizer that is quick, simple and inexpensive to prepare.
1 - 15 oz. Can "California Girl" Imitation Abalone
2 - Medium Tomato (Diced)
1 - 15 oz. Can "California Girl" Seafood Mix
1 - 10 oz. Can "California Girl" Whole Baby Clams
1/2 - Cup - Cilantro (Chopped)
2 - Medium Onion (Diced)
2 – Medium sized Jalapenos (Diced)
9 - Limes (Key lime or Colima) (Juiced)
Layer ingredients into a glass or stainless steel baking dish.
Layer 1: Spread diced onions in a glass-baking dish.
Layer 2: Drain and spread "California Girl" Abalone and Seafood Mix.
Layer 3: Spread diced tomatoes and diced jalapenos.
Layer 4: Top with chopped cilantro and drizzle with lime juice.
Cover and refrigerate for at least 30 minutes. Serve on tostadas. Add your favorite salsa picante for extra heat!
Hearts of Palm, Avocado and Grilled Prawn Salad
Ingredients:
1 cup fresh cilantro leaves
2 garlic cloves, chopped
1/4 cup fresh lime juice
1/2 teaspoon ground cumin
1/2 teaspoon salt
1/8 teaspoon ground red pepper
1/3 cup canola oil
1 6-8 fresh or packaged baby spinach
3-4 oz Fresh Swiss Chard
1TSP Canola or Olive Oil
1 pound jumbo uncooked prawns.
1 (14-ounce) can California Girl hearts of palm, drained and cut into 2-inch pieces
2 ripe avocados (preferably California grown Hass), sliced and halved
Preparation:
Peel and devein prawns. Rinse under cool water in a colander.
Process cilantro and next 5 ingredients in a food processor until smooth. With processor running, add oil in a slow, steady stream until blended.
Coat Prawns in Olive Oil and grill over medium heat for 5 minutes, turning 3-4 times. Cook until color is orange and prawns have a nice char. Set aside.
Sauté Swiss Chard in 1 TSP Canola or Olive Oil over Medium heat (1-1.5 Min until slightly wilted but not reduced in size). Set aside. Toss spinach and swiss chard with 1/4 cup dressing in salad bowl; divide evenly among 4 serving plates. Top evenly with shrimp, hearts of palm, and avocado. Drizzle salads evenly with remaining dressing.